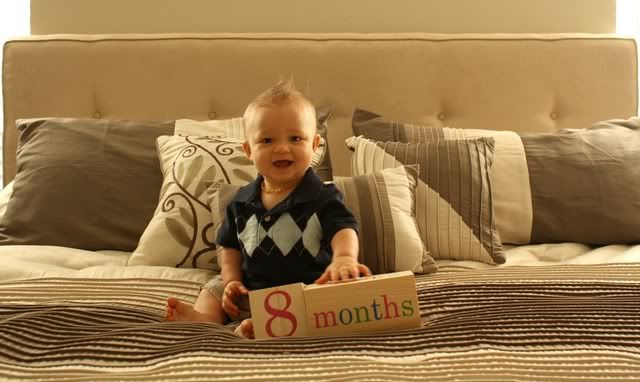 Weight: 20lbs
Clothing: 18 Months
Diapers: Size 3
Feeding: Cereal in the morning with fruit baby food. Vegetable baby food for lunch. Fruit baby food at 3p. Vegetable & Cereal for dinner. 20 oz formula per day. He drinks from a sippy cup with water at each mealtime.
Night time Sleep: Half of the time he sleeps through the night the other half he wakes up once a night.
Updates: He is :this close: to crawling. He scoots and rolls all over to get where he wants to go. He no longer uses the baby tub and takes a bath in the big tub with Addison. He has started eating grapes, apples and bananas via the net feeder. He cut his top two front teeth last week so he's now up to 4 teeth. He laughs anytime someone sneezes and thinks his sister is hilarious.