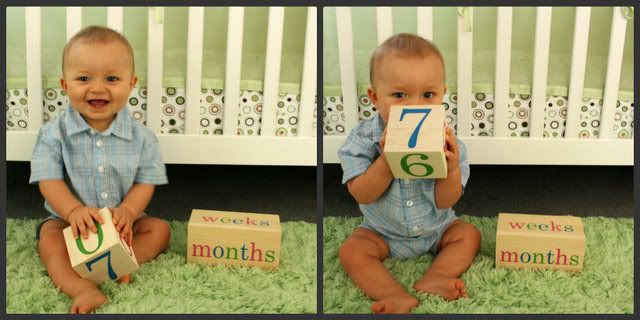 Weight: 19lbs 15oz
Length: 29.75 inches
Clothing: Shirts – 12 Months
Pants – 18 Months
Diapers: Size 3
Feeding: Cereal in the morning with fruit baby food. Vegetable baby food for lunch. Fruit baby food at 3p. Vegetable & Cereal for dinner. 20 oz formula per day.
Night time Sleep: In the process of sleep training.
Updates: He started blowing raspberries, sits unassisted, started sleeping on his stomach at night, claps, holds his arms up when you say "So Big," and waves bye. He has said "Mama and Dada" a few times. We moved him out of his infant car seat and into the convertible car seat. He loves the pool.
We started sleep training a few weeks ago. After 3 long nights he finally started sleeping through the night. Once we moved into the house we had another 3 rough nights but thankfully he is back to sleeping through the night the last 2 nights. Crossing my fingers that he continues STTN.