I haven't posted a Tasty Tuesday in a long time. I've been trying lots of new recipes lately but haven't had time to share them. Last night I made this recipe which I found on pinterest. The prep time was 10 min, then I baked it in the oven for 40 minutes at 375º. I love how the house was filled with the smell of rosemary.
Chicken Thighs Wrapped in Prosciutto w/ Rosemary (adapted from Rachael Ray):
?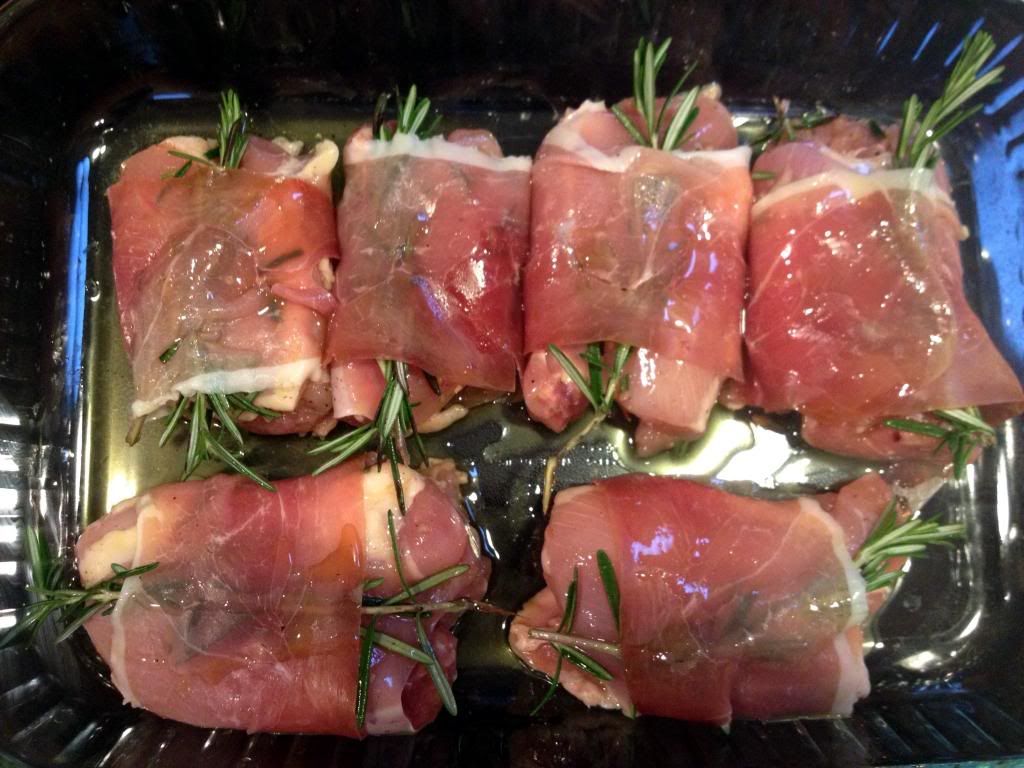 All prepped and ready for the oven
Ingredients:
1/4 cup extra-virgin olive oil, plus more for drizzling
2 large cloves garlic, peeled and very thinly sliced
1 package or bundle fresh rosemary
8 pieces good quality boneless, skinless chicken thighs, trimmed of fat
Salt and freshly ground black pepper
8 thin slices prosciutto di Parma
2 lemons, cut into thin wedges
Drizzle balsamic vinegar
Directions:
Pour about 1/4 cup extra-virgin olive oil into a shallow dish and add the garlic.
Strip the leaves off one sprig of rosemary and finely chop, about 1 tablespoon. Add the chopped rosemary to the bowl with the garlic and oil. Break the remaining rosemary up into 8 small sprigs about the size of the chicken pieces.
Season the chicken pieces with salt and pepper to taste, and add them to the garlic mixture. Turn to coat (I used my hands for this).
Wrap the chicken pieces in prosciutto, placing a rosemary sprig in the center before wrapping. The sprigs should stick out a bit at the edges of the chicken. Drizzle balsamic vinegar on top before serving and serve with lemon slices.

Bake at 375º for 40 minutes.
Recipe Source


Our Breezy Beach Life