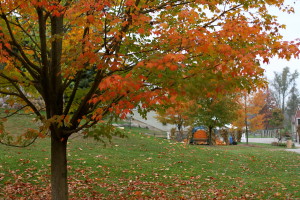 I flew home to Michigan – the Detroit area – recently, and hung out in my childhood home with my old Dad, and my sister. It was a week off from my real life.   She took a week off, too, and traveled home from her California, and so for a sweet seven days we were three Shminas.  Roaming southeast Michigan in search of fall color and Nordstrom, and hanging out with our brothers and their families, in between.
Since moving to Florida in 2000,  finding my little beach neighborhood and nestling right on in, we've gone home to Michigan every single year except 2008.  The kids love it.  Going to Michigan every summer (I've come to realize) is as much their anticipated summer vacation as mine was for all those years our family trekked to Sleepy Hollow resort in South Haven.  I'd spend all year looking forward to that one week. I'd dream about how great it would be if I ever got to live on the Lake Michigan coast.  It was a terrific fantasy, one I'd marinate in while I waited to fall asleep at night, for years and years.
Imagine my joy when seemingly out of the blue fate led us to west Michigan!  To the wonderful town of Grand Haven!  We found an excellent family home in the wooded, hilly sand dunes above the beach there; it was a blissful two years.  I say I thought I'd died and gone to heaven, and it's pretty much true.  Nearly every day I drove past the beach, saw my Lake Michigan through the seasons for two whole years.  I thought I was the luckiest.  A wonderful man, two beautiful and happy children, and me – all of us living on the shore of Lake Michigan (with deeded access! - a big deal, real estate-wise! – to the beach).
I still have pangs of longing, and wondering about how our life might have unfolded had we stayed and raised the family there.
But along came an opportunity, and it's good to take a chance, to say yes to something you believe will be good for your career, your life, your family.  It was so hard to let go of Grand Haven, to leave our parents and families behind,to pack up our tiny children and leave the cold, gray winters (okay, that part wasn't so hard) behind for a new land (and climate) in coastal Florida.
I'll admit that I'd sometimes wish I could live in a warm, coastal place, but I only ever had those feelings momentarily, and it seemed so far fetched I didn't really envision such a life.  I accepted my murky, cold, and slushy winters, while envious of my sister's life in her California climate.
Then, suddenly, Florida!  Suddenly we lived here, and not only here, but in the charming town of Atlantic Beach, no less.  Within walking distance of the prettiest beach in the area.  Oh yes, my husband and I were both totally happy with our change of venue and climate.  We traded one perfect place for another.  And the next thing you know, it's 13 years later.
So every year we spend a couple of weeks of summer up in Michigan, our family visiting grandparents and cousins.  It's such a whirlwind of going here and going there, that it hardly feels we get to sink our toes into Michigan.  Sure, we've gotten to spend an afternoon on the beach or swim in Lake Michigan during some of our visits, but not always. And while the visits are great for family connectedness  I've felt increasingly frustrated with going, but not getting to feel it there.
Last year, then, I decided to go up in the fall.  I had four great days, just me with my Dad and the Michigan trees.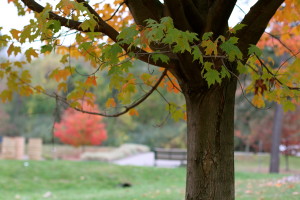 It was so nice that my sister decided to do the same thing this year,  and make a long weekend a whole week,  so that's what we did.  A week together in Michigan in the fall, just us with our Dad – in our family home, each in her former bedroom.  It was kind of awesome.  A middle-aged mom gets to be a daughter again.